Lawyer Divorce Palma de Mallorca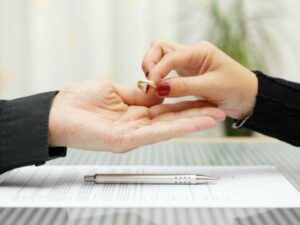 Lawyer divorce in Palma de Mallorca
¿Do you need a lawyer to get divorced in Mallorca?
We help you to end your marriage. Our lawyers will advice you in your divorce or separation.
Depending on your situation we will recomend you, if possible, to try to reach a mutual agreement.
In any case if we need to go on litigation, we will design the strategy to follow and we will assure all the steps to get the best result.
Types of Divorces:
The divorce or separation can be done at Court or by the Notary under certain requirements.
We manage divorces:
-With / without minor children.
-With / without distribution of goods.
-With / without compensatory pension.

Express Divorce:
We offer the possibility to get an express divorce by Notary.
In 7 days you will be divorced.
Divorce by notary under mutual agreement and without children
Cost € 450 (All included)
CALL US AND WE WILL ADVISE YOU WITH NO COMMITMENT
971 72 42 31

ATTORNEY/SOLICITOR/LAWYER IN MALLORCA
Location